Publication:
Copper(I)-Catalyzed Click Chemistry as a Tool for the Functionalization of Nanomaterials and the Preparation of Electrochemical (Bio)Sensors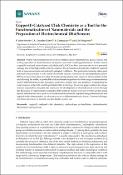 Advisors (or tutors)
Editors
Abstract
Proper functionalization of electrode surfaces and/or nanomaterials plays a crucial role in the preparation of electrochemical (bio)sensors and their resulting performance. In this context, copper(I)-catalyzed azide-alkyne cycloaddition (CuAAC) has been demonstrated to be a powerful strategy due to the high yields achieved, absence of by-products and moderate conditions required both in aqueous medium and under physiological conditions. This particular chemistry offers great potential to functionalize a wide variety of electrode surfaces, nanomaterials, metallophthalocyanines (MPcs) and polymers, thus providing electrochemical platforms with improved electrocatalytic ability and allowing the stable, reproducible and functional integration of a wide range of nanomaterials and/or different biomolecules (enzymes, antibodies, nucleic acids and peptides). Considering the rapid progress in the field, and the potential of this technology, this review paper outlines the unique features imparted by this particular reaction in the development of electrochemical sensors through the discussion of representative examples of the methods mainly reported over the last five years. Special attention has been paid to electrochemical (bio)sensors prepared using nanomaterials and applied to the determination of relevant analytes at different molecular levels. Current challenges and future directions in this field are also briefly pointed out.
Collections