Publication:
Introducción a la Filosofía de la Sociedad y la Cultura (Guía didáctica)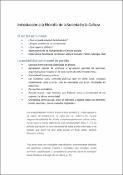 Advisors (or tutors)
Editors
Abstract
La presente guía muestra en forma analítica algunos de los principales ejes de estudio filosófico de la sociedad y la cultura. La primera parte se ocupa de la reflexión filosófica sobre la sociabilidad desde una perspectiva aristotélica, se la relaciona con la vulnerabilidad e interdependencia humana (Rousseau) y se cuestiona el mito de la autonomía individual. Al hilo de la sociabilidad se aborda el papel del conflicto social, sus causas y tratamientos. La segunda parte aborda la cultura como un conjunto complejo socialmente heredado de objetos, prácticas y creencias que se transmite entregeneraciones por medio de diferentes canales de transmisión cultural. La tercera parte aborda por separado cada un de los cinco elementos de la cultura: símbolos, lenguaje, valores y creencias, normas y cultura material, incidiendo en el componente político y moral de cada uno de ellos.
This guide shows in an analytical way some of the main axes of philosophical studies of society and culture. The first part deals with the philosophical reflection of sociability from an Aristotelian perspective, its relationship with vulnerability and human interdependence (Rousseau) questioning the myth of individual autonomy. In the thread of sociability, the role of social conflict is addressed as well as its causes and treatments. The second part deals with culture as a social inherited complex which includes objects, practices and beliefs that are transmitted through different cultural channels. The third part deals with each of the five elements of culture separately: symbols, language, values ​​and beliefs, norms and material culture, focusing on the political and moral component of each of them.