Publication:
La "ideología de género" frente a los derechos sexuales y reproductivos. El escenario español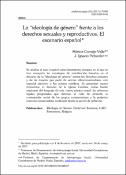 Advisors (or tutors)
Editors
Publisher
Universidade Estadual de Campinas Cidade Universitária "Zeferino Vaz"
Abstract
Se analiza el caso español como laboratorio europeo en el que se han ensayado las estrategias de movilización basadas en el discurso de la "ideología de género" contra los derechos sexuales y de las mujeres por parte de actores ultraconservadores, con especial atención a los actores católicos. Se presentan cuatro momentos: el discurso de la Iglesia Católica, como fuente originaria del lenguaje de este nuevo pánico moral; las reformas legales progresistas que detonan el ciclo de protesta; la contestación social de los grupos conservadores y la posterior reacción conservadora moderada desde la acción de gobierno.
Spain is analyzed as a laboratory where strategies of mobilization against sexual and women's rights based on the discourse of the "gender ideology" have been tried by ultraconservative and Catholic actors. Four moments are reviewed: the discourse of the Catholic Church, as the original source of this new moral panic language; Progressive legal reforms that trigger the cycle of protest; Social contestation of the conservative groups and the moderate conservative reaction from the government.
Collections