Publication:
Influencia social en las comunidades de cine: filmaffinity como caso de estudio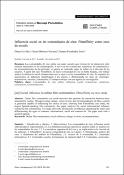 Advisors (or tutors)
Editors
Publisher
Universidad Complutense de Madrid
Abstract
Las comunidades de cine online son redes sociales que promueven la interacción entre usuarios interesados en la cinematografía. A través de las evaluaciones numéricas, los comentarios y las recomendaciones de las películas, se genera un contenido capaz de influir en la elección de los usuarios. A partir del caso Filmaffinity, la mayor comunidad de cine de habla hispana, este trabajo analiza la influencia social informacional que se ejerce en las comunidades de cine. Se exponen los mecanismos de influencia identificando a los actores y diferenciando los tipos de contenidos: informativos, sociales y comerciales. El trabajo concluye con una agenda de investigación.
Online film communities are social networks that promote the interaction between users interested in cinema. Through average ratings, verbal reviews and recommendations of films, content is generated capable of influencing the choice of users. Drawing from Filmaffinity case study, the largest Spanish-speaking film community, this paper analyzes the social informational influence exerted in film communities. The study shows the mechanisms of influence identifying the actors and differentiating the types of contents: informational, social and commercial. The paper ends with a research agenda.
Collections