Publication:
Análisis comparado de la aplicación del principio europeo de responsabilidad ampliada del productor en envases, vehículos fuera de uso y residuos de aparatos eléctricos y electrónicos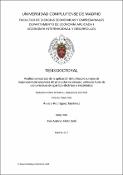 Files
Authors
Advisors (or tutors)
Editors
Publisher
Universidad Complutense de Madrid
Abstract
El marco legal europeo con la intención de proteger al medio ambiente y a las personas, y para preservar los recursos materiales y energéticos, desarrolla la llamada Responsabilidad Ampliada del Productor (RAP). La RAP obliga al fabricante de un bien o producto a que el tratamiento de gestión final que se hace a dichos productos al final de su vida útil sea el adecuado y cumpla con los objetivos que, en cada categoría de producto, marca la normativa. Pese a estar bajo el mismo principio, no todos los productores han adoptado el mismo sistema para cumplir con dichas normas. Así, en el caso de España, para los envases y embalajes se optó por crear un Sistema Integrado de Gestión (SIG) que crease toda la estructura de recogida, clasificación y preparación para la gestión de dichos residuos. De este modo nace Ecoembalajes España que crea desde cero todo un sistema de recogida de envases a partir del llamado contenedor amarillo. Se encarga de construir y gestionar las necesarias plantas de selección de envases y de obtener en ellas un material seleccionado que subasta a los consumidores de dichos materiales. El sistema resulta caro, pues ha de crearse toda una estructura nueva que inicialmente no tiene en cuenta las iniciativas preexistentes de recogida y reciclaje de envases que existían previamente. La financiación de Ecoembes se lleva a cabo a través del llamado punto verde que pagan los envasadores y productores en virtud de la cantidad de envases puestos en el mercado cada año. Las plantas de selección no funcionan bajo parámetros de rentabilidad económica sino como un servicio público y su objetivo es cumplir con los porcentajes de materiales seleccionados que Ecoembes les exige. Finalmente los materiales clasificados que salen de las plantas de selección adolecen de una falta de calidad que penalizan su valor en el mercado de materias primas secundarias obligando en muchos casos a los gestores que adquieren dichos materiales a reprocesarlos para poder venderlos a los consumidores de materiales cumpliendo con los estándares de mercado...
The European legal framework with the intention of protecting people and environment and to preserve materials and energetic resources developed the so called Extended Producer Responsibility (EPR) scheme. The EPR requires the manufacturer of a good or product to assure that treatment of end of life goods is done appropriately and meets the objectives required in each product category in the regulations. Despite being under the same principle not all producers have adopted the same system to meet those standards. Thus, in the case of Spain, for packaging it was decided to create an Integrated Management System (IMS) to develop the whole structure of collection, sorting and preparation for the management of such waste. Thus it was born Ecoembalajes España (Ecoembes) creating from scratch a system of collecting packaging from the, so called, yellow container. Ecoembes is responsible for building and managing the necessary packaging sorting plants. Selected material exits from those plants is sold to consumers of such materials. The system is expensive because it has created a whole new structure that initially does not take into account previous existing initiatives of packaging recycling and collection. Ecoembes is financed by the so-called Green Dot, which is paid by packers and producers according to the amount of packaging placed on the market each year. Sorting plants do not operate under parameters of profitability but as a public service and aims to meet the percentages of selected materials Ecoembes requires them. Finally the classified material coming out of the sorting plants suffer from a lack of quality that penalize their value in the market of secondary raw materials in many cases forcing managers acquiring such materials to reprocess it to sell to end-users in compliance with market standards. The whole system is based on the cooperation of citizens who must classify package waste at home and place them in the appropriate container. However there is a lack of incentives and awareness on part of the population...
Description
Tesis inédita de la Universidad Complutense de Madrid, Facultad de Ciencias Económicas y Empresariales, Departamento de Economía Aplicada I (Economía Internacional y Desarrollo), leída el 12/01/2016
Collections