Publication:
Simultaneous Determination of the Main Peanut Allergens in Foods Using Disposable Amperometric Magnetic Beads-Based Immunosensing Platforms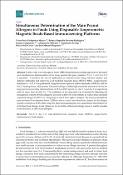 Advisors (or tutors)
Editors
Abstract
In this work, a novel magnetic beads (MBs)-based immunosensing approach for the rapid and simultaneous determination of the main peanut allergenic proteins (Ara h 1 and Ara h 2) is reported. It involves the use of sandwich-type immunoassays using selective capture and detector antibodies and carboxylic acid-modified magnetic beads (HOOC-MBs). Amperometric detection at −0.20 V was performed using dual screen-printed carbon electrodes (SPdCEs) and the H2O2/hydroquinone (HQ) system. This methodology exhibits high sensitivity and selectivity for the target proteins providing detection limits of 18.0 and 0.07 ng/mL for Ara h 1 and Ara h 2, respectively, with an assay time of only 2 h. The usefulness of the approach was evaluated by detecting the endogenous content of both allergenic proteins in different food extracts as well as trace amounts of peanut allergen (0.0001% or 1.0 mg/kg) in wheat flour spiked samples. The developed platform provides better Low detection limits (LODs) in shorter assay times than those claimed for the allergen specific commercial ELISA kits using the same immunoreagents and quantitative information on individual food allergen levels. Moreover, the flexibility of the methodology makes it readily translate to the detection of other food-allergens.
Collections