Publication:
Encuentros estudiantes-profesionales del grado en Nutrición Humana y Dietética. Actividades complementarias a las prácticas curriculares externas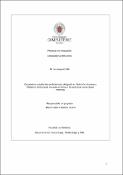 Advisors (or tutors)
Editors
Abstract
En este proyecto nos hemos centrado en la creación de un programa docente cuyo fin ha sido complementar la formación académica de los estudiantes del grado de Nutrición Humana y Dietética. Hemos acometido este proyecto con la idea de acercar a los estudiantes al desarrollo de la profesión desde el punto de vista práctico de manera interactiva. Consideramos que el programa de actividades que hemos realizado ayuda al alumno a reforzar habilidades necesarias para el desarrollo profesional, orientándoles en el emprendimiento, capacidad de comunicación eficaz, desarrollo de la creatividad y trabajo multidisciplinar.
In this project we have focused on the creation of a teaching program whose purpose has been to complement the academic training of students in the Human Nutrition and Dietetics degree. We have undertaken this project with the idea of bringing students closer to the development of the profession from a practical point of view in an interactive way. We believe that the program of activities that we have carried out helps the student to reinforce the necessary skills for professional development, guiding them in entrepreneurship, effective communication skills, development of creativity and multidisciplinary work.