Publication:
Brassens en España: un ejemplo de transferencia cultural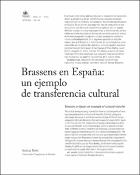 Authors
Advisors (or tutors)
Editors
Publisher
Universidad de Malaga, Departamento de Traducción e Interpretación
Abstract
El artículo tiene como objetivo estudiar la traducción de canciones desde la perspectiva de las transferencias culturales tomandocomo ejemplo la presencia del cantautor francés Georges Brassens en España. En un primer apartado este tipo de traducción se presenta como una forma de transferencia cultural con un skopos definido y unas circunstancias específicas y determinantes; se describen asimismo las distintas formas de transferencia en el ámbito de la música popular (recepción cultural, apropiación estilística y traducción/adaptación). En el segundo apartado se describe cómo y por qué Brassens, el más francés de los cantautores, se ha convertido en un clásico del repertorio cultural español, haciendo especial hincapié en el papel de las figuras de Paco Ibáñez, Javier Krahe y Loquillo en dicho proceso. Por último, se ponen de manifiesto las diferentes estrategias que subyacen tras las transferencias musicales y su papel en los sistemas de la cultura meta.
This article analyzes song translation from a cultural point of view, applying polysystem and cultural transfer theories, using as a case study the ways in which the work and style of French singersongwriter Georges Brassens has been exported-imported in Spain. In the first section, the translation of songs is described as a form of cultural transfer, with a fixed skopos within a specific context. Then, different forms of transfers are reviewed: cultural reception, stylistic appropriation/emulation and translation/adaptation. The second section analyses why and how the «quintessentially French» singer-songwriter Brassens has been so successfully integrated in the Spanish cultural reservoir, mainly through the role played in this transfer by artists such as Paco Ibáñez, Javier Krahe and Loquillo. Finally, the different strategies which lie behind musical transfers are explored alongside their role in the target culture.
Collections