Publication:
Force-extension curves for biomolecules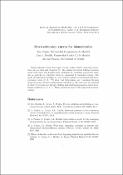 Authors
Advisors (or tutors)
Editors
Abstract
Single-molecule atomic force spectroscopy probes elastic properties of proteins such as titin and ubiquitin. We analyze bioprotein folding dynamics under both force and length-clamp conditions by modeling polyprotein modules as particles in a bistable potential, connected by harmonic springs. The study of multistable equilibria in these models explains recorded sawtooth force-extension curves. We show that bifurcations and transitions through quasi-stationary domain configurations modified by thermal noise are involved in observed stepwise and abrupt refolding and unfolding phenomena under force-clamp conditions. These predictions agree with experimental observations.
Citation
[1] L.L. Bonilla, A. Carpio, A. Prados, Protein unfolding and refolding as transitions through virtual states, EPL (Europhysics Letters) 108, 28002, 2014 [2] A. Prados, A. Carpio, L.L. Bonilla, Sawtooth patterns in force-extension curves of biomolecules: an equilibrium-statistical-mechanics theory, Physical Review E 88, 012704, 2013 [3] A. Prados, A. Carpio, L.L. Bonilla, Spin-oscillator model for the unzipping of biomolecules by mechanical force, Physical Review E 86, 021919, 2012 [4] A. Carpio, LL Bonilla, Wave front depinning transition in discrete one-dimensional reaction-diffusion systems, Physical Review Letters 86, 6034-6037, 2001 [5] Effects of disorder on the wave front depinning transition in spatially discrete systems, A. Carpio, L.L. Bonilla, A. Luzon, Physical Review E 65, 035207, 2002 [6] A. Carpio, L.L. Bonilla, Depinning transitions in discrete reaction-diffusion equations, SIAM Journal on Applied Mathematics 63, 1056-1082, 2003 [7] A. Carpio, Wave trains, self-oscillations and synchronization in discrete media, Physica D-Nonlinear Phenomena 207, 117-136, 2005