Publication:
Ticking Boxes : Everyday Participation in the Urban Redevelopment Planning of Waterloo, Sydney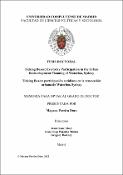 Files
Authors
Advisors (or tutors)
Editors
Publisher
Universidad Complutense de Madrid
Abstract
In December 2015, the New South Wales state government announced a massive urban renewal project for Waterloo Estate, one of the largest public housing estates in Australia, situated in Waterloo, a suburb located in inner-city Sydney. An essential component of this redevelopment proposal was a twelve-month participatory process that included a non binding consultation process led by private consultancies, featuring capacity-building workshops and community engagement activities. As in different cities, this participatory process followed a larger trend in urban redevelopments that advocates for local community participation to decentralise power and support collaborative planning. Nonetheless, in Waterloo, after several workshops, public meetings, and online consultations, residents remain unable to see their "needs" and "aspirations" – as announced by the program – reflected in the final masterplan. This contradiction raises the main question for this research project, which aimed to understand the apparent paradox of democratic initiatives constantly appearing in different contexts, and yet residents continuing to feel unheard, frustrated, demobilised, controlled, and threatened by a topdown process that was bringing ambiguous "improvement" to their lives...
En diciembre de 2015, el gobierno del estado de Nueva Gales del Sur anunció un proyecto de renovación urbana para el Waterloo Estate, uno de los mayores conjuntos de vivienda públicas de Australia, situada en Waterloo, un suburbio del centro de Sídney. Un componente esencial de esta propuesta fue un proceso participativo de doce meses, que incluyó una consulta no vinculante dirigido por consultorías privadas, además de talleres de capacitación. Al igual que en otras ciudades, este proceso participativo siguió una tendencia de reestructuración urbanas que aboga por la participación de la comunidad local para descentralizar el poder del Estado y apoyar la planificación colaborativa. Sin embargo, en Waterloo, tras varios talleres, reuniones públicas y consultas online, los residentes siguen sin ver sus "necesidades" y "aspiraciones" — tal y como anunciaba el programa — reflejadas en el plan director final. Esta contradicción plantea la cuestión principal de este proyecto de investigación, cuyo objetivo es comprender la aparente paradoja donde las iniciativas democráticas parecen estar presente en diferentes contextos, a pesar de que residentes siguen sin sentirse escuchados. Al revés, se sienten frustrados, desmovilizados, controlados y amenazados por un proceso de "arriba-abajo" que aporta una ambigua "mejora" a sus vidas...
Description
Tesis inédita de la Universidad Complutense de Madrid, Facultad de Ciencias Políticas y Sociología, leída el 10-05-2022
Collections