Publication:
La política urbana en Madrid: un relato provisional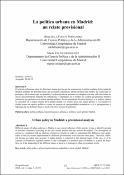 Advisors (or tutors)
Editors
Publisher
Universidad Complutense de Madrid
Abstract
El artículo reflexiona sobre las diferentes etapas por las que ha transcurrido la política urbana de la ciudad de Madrid, tratando de delimitar fases que presenten coherencia interna respecto del modelo de ciudad que se persigue y las acciones que se impulsan. La descripción de acciones se completa con una reflexión sobre las claves que permitirían entender las diferencias y similitudes en el modelo de ciudad que plantean distintos gobiernos que pertenecen al mismo partido político. Así se consideran diversos factores: si la política urbana se concentra en la lógica interna de la propia ciudad o se orienta hacia una lógica global; si se considera la ciudad como un espacio político o como un espacio de oportunidades económicas o si el protagonismo o liderazgo de las distintas fases es local o de otros niveles de gobierno.
Different stages of urban policies in Madris is our central reflexion of this article, trying to identify periods of internal coherence according to the city model pursuit and the actions developed. The description of actions is completed with an analysis of main key points in order to understand the difference and similitudes of the city model implemented by different governments even from the same party. Therefore, different factors are taken into account: if urban policiy is centered in the internal logic of the city, or if by contrary is oriented to a global context; if city is thought as a political space or mainly as a place for beneficts, or if the leadership of the different stages is local or is belongs to other government levels.
Collections