Publication:
Los clásicos grecolatinos y la novela gótica angloamericana: encuentros complejos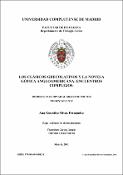 Files
Authors
Advisors (or tutors)
Editors
Publisher
Universidad Complutense de Madrid, Servicio de Publicaciones
Abstract
El objetivo de la presente tesis doctoral es replantear las relaciones literarias que se establecen entre la literatura grecolatina y la literatura gótica angloamericana, y que aquí se proponen en forma de diálogo. A lo largo de esta tesis se demostrará que en el encuentro entre la literatura gótica y la literatura grecolatina todo es más complejo de lo que en un principio puede parecer, yendo más allá de la influencia o la imitación, de la inspiración o del revisionismo crítico, de la aceptación o el rechazo. En una primera parte de la tesis, se tratarán diversas cuestiones teóricas relativas al origen y la evolución de la novela gótica, lo que ayudará a delimitar el tipo de literatura que se analiza; se considerarán, asimismo, diferentes aspectos de la relación entre lo gótico y lo clásico, un encuentro que se plantea en forma de tensión literaria. La segunda parte de la tesis se centrará en el análisis de cinco autores y sus respectivas obras: The Castle of Otranto (1764) de Horace Walpole, Frankenstein; or the Modern Prometheus (1818) de Mary Shelley, Melmoth, the Wanderer (1820) de Charles R. Maturin, una selección de cuentos (1834-1842) de Edgar Allan Poe, y el análisis conjunto de The Lifted Veil (1859) y The Mill on the Floss (1860) de George Eliot. Los casi cien años que abarcan estas obras permiten estudiar un periodo de la literatura gótica en plena evolución, desde sus orígenes hasta sus primeras transformaciones en géneros más modernos. Finalmente, se han añadido cinco apéndices que complementan o indagan en algunos de los aspectos comentados a lo largo de la tesis, y que analizan parte del contexto sociocultural de este estudio, dedicándose a diferentes aspectos del sistema educativo y la transmisión de los clásicos en los ámbitos académicos.
Description
Tesis de la Universidad Complutense de Madrid, Facultad de Filología, Departamento de Filología Latina, leída el 28-05-2010
Collections