Publication:
Deriving wind force terms from nautical reports through content analysis. The Spanish and French cases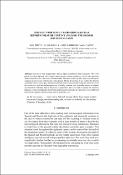 Advisors (or tutors)
Editors
Abstract
Records of wind strength taken onboard Spanish and French ships during the 1750-1850 period have been digitized and examined using content analysis techniques to derive the equivalent wind strength in terms of the current Beaufort scale, this conversion being a key step in any attempt to compare ancient records with modern climatologies. During the analysis it was evident that Spanish and French officers used a great number of different terms to describe the wind force. However, when the records are analyzed and homogenized, a broadly common and essentially narrow vocabulary was identified, indicating that, at this period, a great effort had been made to regulate the maritime language. Using contemporary dictionaries and navigation manuals, an equivalence was established between the original wind force terms and the Beaufort scale.
Description
© Springer 2005. The authors thank the three reviewers who helped to improve the clarity of the work. D. Wheeler kindly revised the manuscript.
Citation
Barreda, F.: 1786, El marinero instruido en el arte de navegar especulativo y práctico (2nd edn.), Oficina de Vázquez, Hidalgo y Compañía. Baron, W.: 1982, 'The reconstruction of eighteenth century temperature records through the use of content analysis', Clim. Change 4, 385–398. Becher, A.: 1869, La aguja de las tormentas o sea manual sobre huracanes para uso del navegante (Castillian translation by Miguel Lobo, 3rd edn.), Madrid, T. Fortanet, 130 p. Bougher, M. N.: 1753, Traté de navigation: Contenant la théorie et la pratique du pilotage. A Paris: chez Hippolyte- Louis Guerin & Louis F. de Latour, 442 p. Capmany, A.: 1791, Glosario Castellano de los vocablos náuticos y mercantiles contenidos en el libro del Consulado, Costumbres marítimas españolas, Tomo I. Catchpole, A. J.W.: 1992, 'Hudson's bay company ships' logbooks as sources of sea ice data, 1751–1870', in Bradley, R. S. and Jones, P. (eds), Climate since A.D. 1500, Routledge, London, pp. 17–44. Cedillo, P. M.: 1745, Tratado de Cosmograíıa Náutica: dedicado al Exc. Sr. Don Zenón de Somo de Villa, Marqués de Ensenada, Imprenta Real de Marina y Casa de Contratación de D. Miguel Dómez Guiraun, Cádiz. 40 p. Cedillo, P. M.: 1730, Compendio del Arte de la navegación, 2nd edn., Corregida y aumentada. Sevilla, 234 p. Covarrubias, S.: 1994, Tesoro de la lengua castellana o española (original from 1611), Editorial Castalia, Madrid. Falconer, W.: 1780, An Universal Dictionary of the Marine, Thomas Cadell, London. Fernández, A. G.: 1777, Práctica de maniobras de los navíos, Imprenta de Tomás de Santander, Valladolid. Garay Unibaso, F.: 1987, Correos Marítimos españoles a la América española. Vol.I- De 1514 a 1827, Ediciones Mensajero, Bilbao. García Herrera, R., Wilkinson, C., Koek, F. B., Prieto, M. R., Calvo, N., and Hernández, E.: 2005, 'Description of logbooks', Clim. Change, this volume. González Cabrera, J.: 1734, Navegación Especulativa y Práctica. Impresa en Manila: En el Convento de Nuestra Señora de los Angeles de la orden de Nuestro Seráfico Padre San Francisco, Manila. Harland, J.: 2003, Seamanship in the Age of Sail, Conway Maritime Press, 320 p. Jorge-Juan: 1757, Compendio de navegación para el uso de los caballeros Guardia-Marinos, Cádiz. Jorge-Juan: 1771, Examen Marítimo teórico Práctico, ´o Tratado de Mecánica aplicado a la construcción, conocimiento y manejo de los navios y demas embarcaciones, Imprenta de Francisco Manuel de Mena, Madrid. Koek, F. B. and Können, G. P.: 2005, 'Determination of terms for wind force/present weather. The Dutch case', Clim. Change, this volume. Leveque, M.: 1779, Le guide du Navigateur ou Traité de la pratique des Observations et des calcules nécessaires au Navigateur, A Nantes: chez Despilly, libraire, 600 p. Moodie, D. W. and Catchpole, A. J. W.: 1975, Environmental Data from Historical Documents by Content Analysis: Frezze-Up and Break-Up of Estuaries on Hudson Bay 1714–1871. Manitoba Geographical Studies 5, Atmospheric Enviroment Service, Department of Environment, Canada, 119 p. O'Scanlan, T.: 1831, Diccionario Marítimo Español, Imprenta Real, Madrid. Pimentel, M.: 1762, Arte de Navegar, Na Officina de Miguel Manescal da Costa, Impressor do Santo Officio, Lisboa. Prieto, M. and Herrera, R.: 1999, 'Austral climate and glaciers in the 16th century through the observations of the Spanish navigators', Q. South Am. Antarct. Peninsula 11, 153–179. Real Academia Española: 1796, Diccionario de la Lengua castellana compuesto por la Real Academia Española reducido a un tomo para su más fácil uso, 3rd edn., Impresora de la Real Academia, Madrid. Salvá, V.: 1897, Nuevo Diccionario Francés-Español y Español-Francés. Librería de Garnier Hermanos, París. Ulloa de la Torre, A.: 1795, Conversaciones de Ulloa con sus tres hijos en servicio de la Marina, Imprenta de Sancha, Madrid. Vergé-Franceschi, M.: 1991, Marine et education sous l'Ancient Regime, CRNS, París. Wheeler, D. A. and Wilkinson, C.: 2005, 'Understanding wind force and weather terms from ships' logbooks: The English case', Clim. Change, this volume.
Collections