Publication:
Intervención en el déficit de comprensión lectora y expresión verbal tras un accidente cerebrovascular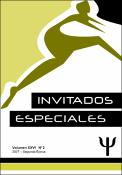 Advisors (or tutors)
Editors
Publisher
universidad Central de Venezuela
Abstract
Desde hace años se conoce que el lenguaje mantiene estrechas relaciones con las estructuras del cerebro y su funcionamiento. En el caso clínico objeto de estudio, en primer lugar describiremos y analizaremos aquellas funciones del habla y la lectura que fueron más afectadas como consecuencia de un accidente cerebrovascular (ACV) causado por un accidente de tráfico. Y en segundo lugar, examinaremos los procedimientos de intervención para restaurar algunas de las funciones más alteradas en cuanto a la expresión y comprensión del habla, la compresión de la lectura y la escritura.
It is well known that language has a closed relation with brain structures and its functions. In this studied case, there will be a description and analysis of the most affected speaking and lecture functions as a consequence of a brain-vascular event due to a traffic accident. Then, the reader will find a review of intervention procedures oriented to restore some of the most altered expression and comprehension functions of language, the understanding of lecture and writing.
Collections