Publication:
Interrelación entre lo matemático y lo didáctico en la reconstrucción escolar de los sistemas de numeración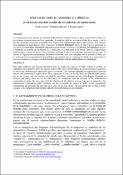 Advisors (or tutors)
Editors
Publisher
Universidad de Jaén, Servicio de Publicaciones
Abstract
[RÉSUMÉ] Ce travail propose une réponse au problème didactique de comment mettre en place un processus d'étude sur les systèmes de numération qui fasse apparaître, de manière explicite, les raisons d'être de ce savoir, c'est-à-dire des questions successives auxquelles cette organisation mathématique apporte une réponse. Nos analyses font apparaître les dépendances entre, d'une part, les tâches didactiques mises en oeuvre par le professeur et ses élèves, les techniques didactiques disponibles pour réaliser ces tâches et le discours technologique qui sert à interpréter et justifier ces techniques et, d'autre part, les composants et la raison d'être de l'organisation mathématique à mettre en place. Nous montrons aussi que l'objectif du processus didactique ne peut pas se réduire à l'organisation mathématique finalement construite, mais doit embrasser tout le parcours d'étude, car ce sont justement les organisations intermédiaires qui donnent sens à la construction finale. Le cas présenté est ainsi une illustration exemplaire de détermination réciproque entre le mathématique et le didactique. [ABSTRACT] This paper addresses the didactic problem of how to work out a process of study related to systems of numeration that explicitly shows the raisons d'être of this piece of knowledge, that is the successive questions to which this mathematical organization gives an answer. Our analyses highlight the dependences between didactic and mathematical organizations. These dependences affect, on the one hand, the didactic tasks carried out by the teacher and the students, the didactic techniques available and the technological discourse to interpret and justify them and, on the other hand, the components and the rationale of the mathematical organization at stake. We also show that the objective of the didactic process may not be reduced to the mathematical organization finally obtained, but has to include the course of study, as the intermediate organizations are precisely the ones that give sense to the final result. The considered case is thus a model example of the reciprocal determination between the mathematics and the didactics.
Citation
BOLEA, P., BOSCH, M. y GASCÓN, J., (2001): La transposición didáctica de organizaciones matemáticas en proceso de algebrización. El caso de la proporcionalidad, Recherches en Didactique des Mathématiques, 20(1) 7-40. BOSCH, M. y GASCÓN, J. (1994): La integración del momento de la técnica en el proceso de estudio de campos de problemas de matemáticas, Enseñanza de las Ciencias, 12(3), 314-332. BOSCH, M., GASCÓN, J. y SIERRA, T. (2004): Análisis de un proceso de estudio en torno a la numeración. En De Castro, C.y Gómez, M. (ed.) Anàlisis del currículo actual de matemáticas y posibles alternativas. Capítulo 3, 39-74. Edebé (Barcelona). BROUSSEAU, G. (1998): Théorie des situations didactiques: Didactique des mathématiques 1970-1990 (N. Balacheff, M. Cooper, R. Sutherland et V. Warfield, Eds.). La Pensée Sauvage: Grenoble. CHEVALLARD, Y. (1985, 1991): La transposition didactique. Du savoir savant au savoir enseigné, La Pensée Sauvage : Grenoble. Traducción en español de Claudia Gilman: La transposición didáctica. Del saber sabio al saber enseñado, Aique: Buenos Aires (1997) CHEVALLARD, Y. (1999): L'analyse des pratiques enseignantes en théorie anthropologique du didactique, Recherches en Didactique des Mathématiques, 19/2, 221-266. CHEVALLARD, Y. (2004): La place des mathématiques vivantes dans l'éducation secondaire: transposition didactique des mathématiques et nouvelle épistémologie scolaire, 3e Université d'été Animath, Saint-Flour (Cantal), 22 al 27 août 2004. CHEVALLARD, Y. (2005): Steps towards a new epistemology in mathematics education. IV Conference of the European Society for Research in Mathematics Education (CERME 4). Sant Feliu de Guíxols (Spain). CHEVALLARD, Y., BOSCH, M. y GASCÓN, J. (1997): Estudiar matemáticas. El eslabón perdido entre la enseñanza y el aprendizaje, ICE/Horsori: Barcelona. GARCÍA, F. J. (2005): La modelización como instrumento de articulación de la matemática escolar. De la proporcionalidad a las relaciones funcionales. Tesis doctoral. Departamento de Didáctica de las Cencias. Universidad de Jaén. GASCÓN, J. (2004): Incidencia del "autismo temático" sobre el estudio de la Geometría en Secundaria. En Palacián, E. (ed.) Aspectos didácticos de matemáticas. Zaragoza: ICE de la Universidad de Zaragoza, pp. 81-124. GASCÓN, J. (2001): Algunos problemas de investigación relacionados con la práctica docente del profesor de matemáticas, XVI Jornadas del SI-IDM, Huesca. (Recuperable en http://www.ugr.es/~jgodino/siidm/). GASCÓN, J. Y SIERRA, T. (2003): Reconstrucción escolar de la numeración. De la representación de los números a la simplificación de los algoritmos de cálculo. (Recuperable en: http://www.ugr.es/~jgodino/siidm/boletin15.htm) GUITEL, G. (1975) : Histoire comparée des numérations écrites. Paris: Flammarion.
Collections