Publication:
Use of high-fidelity clinical simulation for the development of cultural competence of nursing students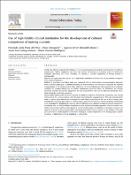 Advisors (or tutors)
Editors
Abstract
Background: The increasing growth of migrant populations in Spain has changed the cultural profile of healthcare system users. Cultural competence in health care settings has become an increasing worry for health professionals, specifically for nurses. Therefore, the training in cultural competency of nursing students is indispensable. Objective: To explore the views on the use of high-fidelity simulation in fourth-year nursing students to improve their cultural competence. Methods: A qualitative descriptive study was conducted with an interpretative phenomenological approach. Before and after taking part in simulated scenarios, 56 semi-structured interviews were conducted. We explored the perceptions of the nursing students when addressing a simulated clinical case with a patient who is a migrant, including the training deficiencies in cultural competences perceived before the simulation, the benefits perceived, and the improvement suggestions. We also analyzed their views on the skills and knowledge developed during the simulation experience. Results: Before entering the simulation scenario, we found the existence of insecurity, uncertainty, and cultural differences in the nursing students, with the main worry being the language barrier. They also mentioned the need to improve their intercultural communication and cultural adaptation of the care in their training. After finishing the simulation, they indicated positive aspects, aspects to be improved, learning acquired, and learning to be strengthened, highlighting the existing cultural differences and asking for training on cultural competence. Conclusions: The use of high-fidelity simulation provides a positive learning experience, which increases a student's comfort when working with patients of varied cultural origins. Its usefulness in teaching is found in its capacity to develop communication skills and interpersonal skills, such as empathy, in the students. This study provides evidence on the importance of specific training on cultural competence in the Nursing Degree, and the usefulness of high-fidelity clinical simulation to achieve this.
Description
CRUE-CSIC (Acuerdos Transformativos 2022)
Collections