Publication:
Single Event Upsets Under Proton, Thermal, and Fast Neutron Irradiation in Emerging Nonvolatile Memories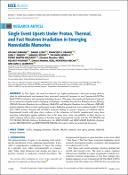 Advisors (or tutors)
Editors
Abstract
In New Space, the need for reduced cost, higher performance, and more prompt delivery plans in radiation-harsh environments have motivated spacecraft designers to use Commercial-Off-The-Shelf (COTS) memories and emerging technology devices. This paper investigates the behavior of state-of-the-art memories manufactured in emerging technologies, including Ferroelectric Random-Access Memory (FRAM), Resistive Random-Access Memory (ReRAM), and Magnetic Random-Access Memory (MRAM), against radiation effects in static and dynamic modes. Radiation-ground tests were conducted under 15-MeV and 1-MeV protons, thermal and 14.8-MeV neutrons leading to various categories of radiation effects. Experimental results will show clear evidence of the robustness of bitcells manufactured using these emerging technologies against radiation, but at the same time, some susceptibility in these devices to suffer radiation effects when working in dynamic mode. Experimental results with the CY15B102Q and CY15B104Q FRAMs (Infineon Technologies), the MB85AS4MT, and MB85AS8MT ReRAMs (Fujitsu), and the MR10Q010CSC and MR25H40CDF MRAMs (Everspin) will be presented and discussed.
Description
This work was supported in part by the Spanish MINECO projects under Grant TIN2017-87237-P and Grant PID2020-112916GB-I00, and in part by the European Union's Horizon 2020 Research and Innovation Program under Grant 101008126.
Collections