Publication:
Gender, culture and digital communication: a contrastive study of women´s reaction to men´s conversational starters on Tinder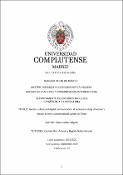 Authors
Advisors (or tutors)
Editors
Abstract
In the last few years, and particularly after the situation with COVID-19, the line which separates our "real" physical lives and our digital lives is growing narrower. Love, sex and dating are no exception. According to Tinder statistics, the generalized lock-down situation resulted in an increase of Tinder matches and on the amount of time spent talking to them. In online, inasmuch as in face-to-face interaction, it is men who often approach women and they do so using a variety of different conversational openers. The purpose of this master's dissertation is to discover what conversational openers (out of the eight studied) are most likely to generate positive responses from women in English and Spanish. In order to evaluate the level of effectiveness of each of the opening lines, a questionnaire was created which consisted of the conversational openers shaped as discourse completion tests. The sample of answers was constituted by 84 answers in Spanish and 51 in English and they were analyzed according to attitude, Conversation Analysis theories, and Herbert's Taxonomy of Compliment responses (1986). The results from this study show that women preferred greetings over any other conversational starter, even if intellectual compliments and questions for information were generally positively perceived. Moreover, Spanish speakers seemed to be morefond of intently humorous conversational openers (despite their sexual references) than English speakers. However, further studies are needed in order to reach truly statistically relevant conclusions.
En los últimos años, y particularmente a raíz del confinamiento obligado por la pandemia del COVID-19, la línea que separa la vida "real" y la digital es cada vez más estrecha, esto se aplica a todas las facetas de nuestra sociedad, lo cual incluye las relaciones interpersonales. Según las estadísticas de Tinder, el confinamiento supuso un aumento de los "matches" en Tinder, así como la longitud media de las conversaciones. En este tipo de aplicaciones, al igual que en la interacción cara a cara, son los hombres heterosexuales los que suelen iniciar conversación y lo hacen utilizando diversas formas de abrir conversación. El propósito de este trabajo de fin de máster consiste en descubrir qué formas de abrir conversación (de los ocho estudiados) tienen más probabilidades de generar respuestas positivas en inglés y español. Para evaluar el nivel de eficacia de cada una de las formas de abrir conversación, se creó un cuestionario que incluía las formas de abrir conversación para que las encuestadas reaccionaran a ellas como lo harían a través de la aplicación. La muestra que se recogió estaba constituida por 84 respuestas en español y 51 en inglés y fueron analizadas según la emoción que transmitían, las teorías de análisis conversacional y la taxonomía de respuestas a cumplidos de Herbert (1986). Los resultados de este estudio muestran que las mujeres prefieren los saludos a cualquier otra forma de iniciar conversación, aunque los cumplidos intelectuales y las preguntas para obtener información también son generalmente percibidos positivamente. Además, las mujeres hispanohablantes reaccionaban más positivamente ante las formas de iniciar conversación de carácter humorístico (a pesar de sus referencias sexuales) que las anglófonas. Sin embargo, estudios más exhaustivos son necesarios para determinar si los resultados de esta investigación son verdaderamente significativos estadísticamente.