Publication:
Ampliación y actualización de las prácticas del laboratorio de Instrumentación Biomédica buscando un aprendizaje y evaluación centrados en el estudiante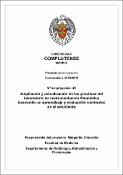 Advisors (or tutors)
Editors
Abstract
El objetivo del proyecto es el diseño de las prácticas de laboratorio para la asignatura Instrumentación Biomédica del Master de Física Biomédica. Se pretende mejorar el aprendizaje potenciando la participación activa y autonomía de los estudiantes. La falta de financiación económica se ha traducido en obtener como resultado del proyecto la redacción de guiones de prácticas que posibiliten el trabajo individual del alumno fuera del laboratorio dado el alto número de alumnos por puesto para llevar a cabo las prácticas. Estos guiones se han complementado con scripts en MatLab para analizar y procesar los datos obtenidos en el laboratorio así como datos obtenidos en diversas bases. Esta propuesta dió información sobre el progreso de los estudiantes en el aprendizaje cuando se utilizó el sistema de rúbricas tambien resultado de este proyecto.
The objective of the project is the design of the laboratory practices for the Biomedical Instrumentation subject of the Master of Biomedical Physics. The aim is to improve learning by promoting the active participation and autonomy of students. The lack of financial funding has resulted in obtaining as a result of the project the writing of practice scripts that enable individual student work outside the laboratory given the high number of students per position to carry out the practices. These scripts have been supplemented with scripts in MatLab to analyze and process the data obtained in the laboratory as well as data obtained from various databases. This proposal gave information about the students' progress in learning when the rubric system was also used as a result of this project.