Publication:
El juego de LEGO y la creatividad en niños de primaria: estudio de la construcción creativa en grupo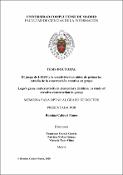 Authors
Advisors (or tutors)
Editors
Publisher
Universidad Complutense de Madrid
Abstract
La sociedad del siglo XXI demanda niños1 cada vez más creativos, preparados para enfrentarse a los constantes cambios, con la capacidad de encontrar soluciones originales y pensamientos divergentes ante estas transformaciones. Esta habilidad se debe fomentar desde la infancia y es responsabilidad, tanto de la escuela como de los progenitores, ayudar a los niños a potenciarla. El juego es el instrumento idóneo para estimularla y es la mejor herramienta que tienen los niños para entender el mundo que les rodea y desarrollar sus capacidades cognitivas. Entre los distintos juegos que existen, se ha optado por el de construcción como eje central de la tesis para investigar si fomenta la creatividad; en concreto, con un estudio de caso de LEGO. De este modo, se busca aportar información sobre un asunto de envergadura social y ofrecer conocimiento teórico y empírico para quien se interese en temas relacionados con la creatividad, la infancia y los juegos...
21st century society demands increasingly creative children, prepared to face constant changes, with the ability to find original solutions and divergent thoughts in the face of these transformations. This skill must be fostered from childhood and it is the responsibility of both the school and the parents to help children to enhance it. Play is the ideal instrument to stimulate it and it is the best tool that children have to understand the world around them and develop their cognitive abilities. Among the different games that exist, construction has been chosen as the central axis of the thesis to investigate whether it encourages creativity, specifically with a LEGO case study. In this way, it seeks to provide information on a matter of social importance and offer theoretical and empirical knowledge for those who are interested in topics related to creativity, childhood and games...
Description
Tesis inédita de la Universidad Complutense de Madrid, Facultad de Ciencias de la Información, leída el 22-10-2020
Collections