Publication:
Textualidad y teatralidad: el trabajo cooperativo en traducción dramática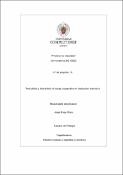 Advisors (or tutors)
Editors
Abstract
Este proyecto persigue adaptar la práctica de traducción de textos dramáticos en el aula (inglés-español) a un contexto real de trabajo, donde el texto final es susceptible de modificaciones por varios agentes, entre ellos el actoral.
Citation
Bassnett-McGuire, Susan. 1985. "«Ways Through the Labyrinth». Strategies and Methods for Translating Theatre Texts". En Hermans, Theo (ed.): The Manipulation of Literature: Studies in Literary Translation. Nueva York: St. Martin's Press, 87-102. Brodie, Geraldine. 2018. The Translator on Stage. Londres: Bloomsbury. Johnston, David. 2004. "Securing the Performability of the Play in Translation". En Coelsch-Foisner, Sabine y Holger M. Klein (eds.): Drama Translation and Theatre Practice. Frankfurt am Main: Peter Lang, 25-38. Pavis, Patrick. 1992. Theatre at the Crossroads of Culture. Londres: Routledge.