Publication:
Ley de Dependencia, coaliciones de actores y regímenes de bienestar en dos comunidades autónomas españolas: Andalucía y Aragón (2007-2017)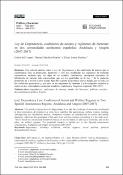 Advisors (or tutors)
Editors
Publisher
Universidad Complutense de Madrid
Abstract
Este artículo analiza cómo la Ley de Dependencia y las coaliciones de actores que se conformaron para su promoción, desarrollo o veto, han modificado los regímenes de bienestar autonómicos haciendo que, sin dejar de ser modelos familiaristas, incorporen elementos de hibridación de carácter más universalista, que son los postulados de la Ley y de la coalición promotora de la misma a nivel estatal. Para ello se parte de un marco teórico basado, por un lado, en las coaliciones promotoras, y por otro, en los regímenes de bienestar. La investigación empírica se realiza en dos comunidades autónomas españolas, Andalucía y Aragón.
This article analyzes how the Dependency Law and the coalitions of actors that conformed to their promotion, development or veto, have modified the autonomous welfare regimes making, although they are familiaristic models, incorporate elements of hybridization of a more universalist character, which are the postulates of the same Law and the coalition promoting it at the state level. This is based on a theoretical framework based, on the one hand, on advocacy coalitions, and on the other, on welfare regimes. The empirical research is carried out in two Spanish autonomous communities, Andalusia and Aragon in the period 2007-2017.
Collections