Publication:
Persuasión en los videojuegos: la construcción de identidades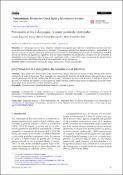 Advisors (or tutors)
Editors
Publisher
Universidad Complutense de Madrid
Abstract
Los videojuegos son una de las industrias culturales más pujantes que existen en la actualidad, lo cual los convierte en un altavoz privilegiado para toda suerte de discursos. Sus mensajes también han ganado en madurez y profundidad, y se han convertido en un entorno usado para la persuasión y la creación de identidades que permean con intensidad en el ámbito privado de millones de jugadores y jugadoras. En este trabajo estudiamos las mediaciones y los procesos de cocreación de identidades en los videojuegos, bajo las lógicas del capitalismo tardío, y cómo dicho rasgo está presente de manera ubicua en cualquier género videolúdico más allá de los denominados juegos persuasivos.
Video games have become one of the most thriving cultural industries in existence today, making them a prime medium for all sorts of discourses. Their messages have also gained in maturity and depth, turning video games into a space used for persuasion and identity building that becomes deeply integrated into the private domains of millions of players. In this text, we examine the capacity of video games to create identities and how this feature is ubiquitous across the whole video game genre beyond the so-called persuasive games.
Collections