Publication:
Depósitos de magnesita en la Cuenca de Calatayud: facies y asociaciones mineralógicas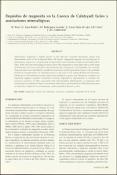 Advisors (or tutors)
Editors
Publisher
Sociedad Geológica de España.
Abstract
Sedimentary magnesite is largely present in the Miocene evaporite formations (Lower and Intermediate units) of the Calatayud Basin (NE Spain). Magnesite deposits are forming part of sedimentary sequences corresponding to hypersaline and moderate-to-high concentrated saline lakes. Both field and mineralógica! studies show that magnesite is associated with a wide range of lithofacies, but most commonly with phyllosilicates and gypsum. Trioctahedral clay minerals (Mg-smectites) were identified in mudflat environments of the hypersaline Lower Unit, probably formed by transformation of inherited phases in Mg and Si-rich saline-alkaline environments. Moderate to well ordered smectites (diocta-trioctahedral) in green clay lithofacies in absence of magnesite suggest a genetic competition forming magnesite or Mg-smectite. In contrast, the exclusive presence of illite associated with interestratified illite/smectite in sequences that correspond to moderate-to-high concentrated saline lakes could result from illitization processes of smectites in Mg-K-rich environments, under periodical dry/wet cycles.
Collections