Publication:
Video-cápsulas para mejorar tus competencias como universitario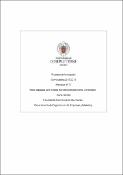 Advisors (or tutors)
Editors
Abstract
Este proyecto de innovación trata de dar respuesta a la necesidad de ofrecer apoyo educativo innovador que mejore la calidad de la docencia y el rendimiento del alumnado. En particular se aborda la adquisición y desarrollo de competencias transversales orientadas hacia el rendimiento académico primero y profesional después. Para ello se han producido cinco vídeo-cápsulas de 5 minutos (proactividad, gestión de estrés, de fuentes bibliográficas, del tiempo y trabajo en equipo) a disposición de alumnos y profesores en un canal de YouTube. Los videos resultantes han sido sometidos a la evaluación de una muestra de 114 estudiantes por medio de un cuestionario estructurado. Los resultados indican que el contenido y el enfoque de los videos es muy interesante siendo las características técnicas adecuadas.
This innovation project seeks to respond to the need to offer innovative educational support to improve the quality of teaching and student performance. In particular, it addresses the acquisition and development of cross-cutting competencies geared towards academic and professional performance first and then professional performance. To this end, five 5-minute video capsules (proactivity, stress management, bibliographic sources, time and teamwork) have been produced for students and teachers on a YouTube channel. The resulting videos have been evaluated on a sample of 114 students using a structured questionnaire. The results indicate that the content and focus of the videos is very interesting and the technical characteristics are appropriate.
Citation
Pascual, M. A. (2011). Principios pedagógicos en el diseño y producción de nuevos medios, recursos y tecnologías. En Sevillano, M. L. (Coord.). Medios, recursos didácticos y tecnología educativa. Madrid: Pearson Educación. Cesteros, A. F.P., E. D. Romero. "Herramienta para la revisión de la Calidad de Objetos de Aprendizaje Universitarios (COdA). Guía del Usuario. [Base de datos en Internet]. E- Prints Complutense: Universidad Complutense de Madrid (España). [Consultado el 15 de febrero de 2013]. Disponible en:http://eprints.ucm.es/12533/1/COdAv1_1_07jul2012.pdf