Publication:
Nuevas herramientas docentes en el espacio universitario multidisciplinar.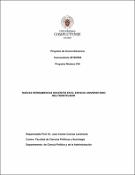 Advisors (or tutors)
Editors
Abstract
Nuestro proyecto se fundamenta en la evaluación de 3 competencias que se consideran claves en la enseñanza Universitaria. Se ha seguido como paradigma el planteamiento de Morin (2001), quien señalaba que una de las tendencias esenciales de la educación del futuro, del presente diríamos ya hoy, será el examen y el estudio de la complejidad humana (homo complexus). El objetivo de nuestro Proyecto ya iniciado es desarrollar un análisis de tres competencias consideradas como claves en el ámbito educativo: i. La expresión oral y escrita: saber escribir y expresarse ii. La capacidad para organizar la información: análisis y síntesis y iii. La capacidad para buscar información y utilizar bibliografía. Estas competencias se han aplicado a través de la Estrategia en Pequeños Grupos (EPG) en seis Grados de diferentes Facultades de la UCM: Veterinaria, Ciencias de la Información, Psicología y Ciencias Políticas y Sociología a lo largo de tres cursos académicos el 2017/ 2018, 2018/2019 y parte del curso 2019-2020.
The Small Group Learning (SGL) permeates throughout higher education fields of study. Thus, our aim is to assess the influence of a planned activity of SGL on a variety of competence appraisals through a multidisciplinary perspective.
Citation
Innovación Docente. Multidisciplinar