Publication:
Secularismo estratégico. Una semiótica de la relevancia católica en el espacio público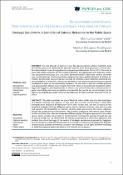 Advisors (or tutors)
Editors
Publisher
Centro de Estudios sobre la Identidad Colectiva. Departamento de Sociología 2. Facultad de Ciencias Sociales - Universidad del País Vasco
Abstract
En este artículo se explora el uso del espacio público urbano madrileño para la reivindicación de la identidad y la agenda católicas, en la línea del proyecto moral católico denominado Nueva Evangelización propuesta por Benedicto XVI en 2010. Para ello se parte del análisis empírico de tres eventos distintos, protagonizados por activistas católicos, que pusieron en juego y en cuestión la (in)visibilidad de la identidad católica, al tiempo que cuestionaron las dicotomías clásicas religioso/secular y público/privado. El análisis semiótico de estos tres casos revela, por un lado, la coherencia entre distintos estilos de presencia religiosa en el espacio urbano, que posibilita a este proyecto implementar su agenda confesional a partir del uso de medios seculares. Por otro lado, el artículo también propone una aproximación teórica que recoge la herencia crítica de la noción de secularismo estratégico de Vaggione, pero replanteado en el marco de una semiótica de la relevancia de Engelke, entendida como una perspectiva que permite dar cuenta del uso estratégico de los signos y sus significados para construir la presencia y el valor social del proyecto moral católico.
This article explores the use of Madrid's urban public space for the vindication of Catholic identity and agenda, in line with the Catholic moral project called New Evangelization proposed by Benedict XVI in 2010. To this end, the text is based on the empirical analysis of three different events, led by Catholic activists, who put into play and question the (in)visibility of Catholic identity, while questioning the classic religious/ secular and public/private dichotomies. The semiotic analysis of these three cases reveals, on the one hand, the coherence between different styles of religious presence in the urban space, which enables this project to implement its confessional agenda through the use of secular media. On the other hand, the article also proposes a theoretical approach that collects the critical heritage of the notion of strategic secularism proposed by Vaggione, but reconsidered within the framework of a semiotics of relevance developed by Engelke, understood as a perspective that accounts for the strategic use of signs and their meanings to build the presence and social value of the Catholic moral project.
Collections