Publication:
Desarrollo de materiales poliméricos selectivos para el control de la calidad y la seguridad alimentaria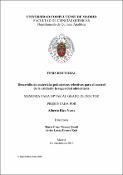 Files
Authors
Advisors (or tutors)
Editors
Publisher
Universidad Complutense de Madrid
Abstract
Los alimentos y los productos alimenticios deben cumplir unas normas mínimas de seguridad para su empleo en el consumo humano. La relación directa entre alimentación y salud ha dado lugar al establecimiento de los derechos fundamentales de los consumidores en materia de seguridad alimentaria. Hoy en día, la inocuidad o seguridad alimentaria se garantiza, entre otros factores, mediante el establecimiento de estándares de calidad de los alimentos, así como de aquellos que afectan a las diferentes etapas de producción, procesamiento, almacenamiento, transporte y venta. El Reglamento Sobre Legislación Alimentaria General establece el principio del análisis de riesgos en relación con los alimentos y los piensos, y establece las estructuras y mecanismos para las evaluaciones científicas y técnicas que realiza la Autoridad Europea de Seguridad Alimentaria (EFSA). La legislación alimentaria se basa en tres componentes interrelacionados del análisis de riesgos, que incluyen la evaluación, la gestión y la comunicación de los mismos...
Food and food products must meet minimum safety standards to be acceptable for human consumption. The direct relationship between food and health has led to the establishment of fundamental consumer rights in terms of food safety. Nowadays, food safety is ensured, among other factors, by setting standards for food quality as well as those that affect different production, processing, storage, transport and sale. The General Food Law Regulation establishes the principle of risk analysis in relation to food and feed and the structures and mechanisms for the scientific and technical evaluations, which are undertaken by the European Food Safety Authority (EFSA). Food law is based on three interrelated components of risk analysis namely, risk assessment, risk management and risk communication...
Description
Tesis de la Universidad Complutense de Madrid, Facultad de Ciencias Químicas, Departamento de Química Analítica, leída el 29-11-2018
Collections