Publication:
Azimuth: diseño y desarrollo de un videojuego no euclídeo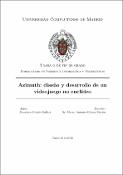 Authors
Advisors (or tutors)
Editors
Abstract
Presentamos un motor para un videojuego en geometría no euclidiana en Unity. En esta memoria, proponemos bases matemáticas para su simulación, con un modelo unificado de las geometrías elíptica (o esférica), euclidiana e hiperbólica, tomando la curvatura de Gauss k como el parámetro. Esto confirmará la intuición de que los tres modelos son similares para valores pequeños de k. Estudiamos con detalle los invariantes geométricos del modelo, sus propiedades geométricas y algunas formulaciones computacionalmente eficientes para la implementación de la óptica y la física en Unity.
We present an engine for the development of a non-Euclidean videogame in Unity. In this report, we propose mathematical foundations for its simulation, with a unified model for elliptic (or spheric), Euclidean and hyperbolic geometries, using the Gaussian curvature k as the parameter. This will confirm the intuition that all these models are similar for small values of k. We study with detail the geometric invariants of the parametrized model, its geometric properties, and some computationally efficient formulations for the implementation of the optics and physics inside Unity.
Description
Trabajo de Fin de Grado en Ingeniería Informática (Universidad Complutense, Facultad de Informática, curso 2014/2015)