Publication:
Arte público entre la combinatoria relacional y el arte como pasión inapropiada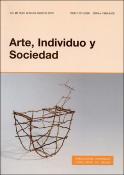 Authors
Advisors (or tutors)
Editors
Publisher
Universidad Complutense de Madrid. Didáctica de la Expresión Plástica
Abstract
Existe consenso acerca de que, si puede hablarse de un Arte público –que no meramente para espacios públicos-, sería un arte siempre orientado a la esfera social y a una recepción compartida. Expresamente o no, su texto sería entonces político. Pero en las dos últimas décadas es el arte en su conjunto quien piensa la recepción y asume su inevitable dimensión pública, generando así debates acerca de su proyección social y emancipadora. Este estudio se traza desde una parte de la teoría surgida en tal sentido, teoría particularmente relevante para pensar qué pueda ser un Arte público hoy. Desde la idea de un límite expandido como diversidad emancipadora y a través del concepto de intersticio social, se presenta ampliamente la estética relacional y el concepto de posproducción, poniendo de relieve en la discusión el exceso formal-comunicativo de su teoría y el peligro de disolver los contenidos en mera fenomenología relacional. Dando por descontado el interés que la práctica relacional tiene para un Arte público, pero también su discutible alcance político, se reflexiona finalmente acerca del inevitable ser político del arte, señalando, en un giro ilustrado, que es preferentemente desde una acción estética cómo este puede hacerse efectivo en la esfera social.
There exists a consensus about the fact that, if there is such thing as public art – not just art for public spaces, it would always be an art that is focused on the social sphere and on a shared reception. Expressly or not, its text would therefore be public. But during the last two decades it is art as a whole that is thinking about reception and recognizing its unavoidable public dimension, thus generating debates around it social and emancipatory dimensions. This text stems from a part of the theory appeared in that sense and particularly relevant in thinking what Public Art can be today. From the idea of an expanded limit as emancipatory diversity and through the concept of social interstice, relational aesthetics and the concept of postproduction are thoroughly presented, underlining in the conversation the formal-communicative excess of its theory and the danger of diluting the contents into mere relational phenomenology. Taking for granted Public Art's interest in relational aesthetics, but also its debatable political potential, there is a final reflection about the inevitable political being of art, pinpointing, in an illustrated bend, that it is preferably from an aesthetic action that it can become effective in the social sphere.
Collections