Publication:
El orden del caos: la decisión del gobierno ante el problema del impacto del turismo en el centro urbano de Madrid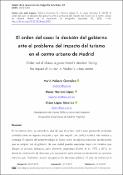 Advisors (or tutors)
Editors
Publisher
Asociación de Geógrafos Españoles
Abstract
En los últimos años, se extiende la idea de que el turismo podría estar generando profundas contradicciones en algunas ciudades y que esto exigiría una política turística más madura y compleja. El objetivo del presente trabajo es ilustrar como, en algunas ocasiones, las decisiones que se adoptan por el gobierno de una ciudad pueden explicarse mejor con modelos que dibujan un proceso anárquico, pero altamente organizado (Cohen et al., 1972 y 2011), en donde la construcción de discursos y la negociación entre actores va decantando las opciones entre las que, finalmente, acaban escogiendo los decisores públicos. El caso de análisis es la decisión adoptada por el gobierno de la ciudad de Madrid ante el aparente conflicto que genera el turismo en la ciudad, aunque el marco teórico y la estrategia de investigación es fácilmente aplicable a otras ciudades que están deliberando sobre estas controversias. Las conclusiones describen un proceso en donde diversos acontecimientos políticos suponen espacios de oportunidad que son aprovechados por algunos actores para impulsar una determinada definición de los problemas y, en consecuencia, una propuesta de intervención coherente con aquella. Observado así el proceso, la racionalidad técnica del decisor tiene un papel muy secundario en el diseño de acciones y la oportunidad política se convierte en elemento clave. Examinar estas dinámicas desde otros marcos teóricos fortalece la capacidad de análisis del turismo como fenómeno transversal y complejo.
In recent years, the idea that tourism could be at the origin of deep contradictions menacing some big cities is gaining space and more complex and mature policies are thus required. With this study we make an attempt at illustrating how policy decisions are better explained as an anarchic, but yet highly organized, process in which actor's discourses and bargaining practices shape the alternatives that decision makers have at hand in the end. The case study is the decision made by Madrid's government in order to face the conflict that tourism would have seemingly risen in the city. The theoretical framework and research design could be easily applied to other cities that are engaged in the same debates, though. The conclusions describe a process where technical rationales of decision makers play a minor role in the formulation of policies, and political opportunity emerges as the key factor. Close attention to these dynamics for alternative frameworks can strengthen our capacity for analyzing tourism as a transversal phenomenon.
Collections