Publication:
Gastronomic botany and molecular gastronomy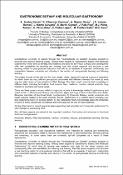 Authors
Pérez-Urria Carril, Elena
Advisors (or tutors)
Editors
Publisher
International Association of Technology, Education and Development (IATED)
Abstract
Complutense University of Madrid through the "Vicerrectorado de Calidad" develops projects to innovate and improve teaching quality. Among these projects is "Gastronomic Botany and Molecular Gastronomy" which aims to develop new materials and tools for the Virtual Campus and consequently offer new possibilities for teaching and training. Also this project organize and structure a new teaching matter for post-graduate education that will be an example of approach, relationship and cooperation between university and industry in the context of post-graduate learning and life-long learning. The project focuses on the idea that for most people, plants, algae and fungi are a group of organisms for which there are very different perceptions associated with different interests that make up what may be called areas of specialization in Plant Biology. The "plant world" extends their knowledge to different fields, including horticulture, food science, food, medicine, nutrition, natural products, drug industry or economic and social areas. There are three aspects around which is organized a body of knowledge related to gastronomy and "plant world": 1) Gastronomic Botany: use of plants, algae and fungi in food, 2) Nutrition and Health: Bioactive principles of functional foods, nutrigenomics 3) Economic Botany: social, economic and health aspects related to the plant products market. Gastronomy is a cultural object changing over time depending mainly on several factors: 1) raw material for food, 2) knowledge about the properties of some of these substances, 3) methods and techniques for the use of these materials. On the other hand, in recent years has been expanding and using the term "molecular gastronomy" to refer changes in processing food. Also all these aspects are related to two important questions: food safety and advances in functional foods and nutrigenomics.
Citation
[1] Burtin, P. (2003). Nutritional value of seaweeds. Electro. J. Environ. Agric. Food Chem. ISSN:1579-4377. [2] Hasler, F.M. (2002). Functional foods: benefits, concerns and challenges – a position paper from the American Council on Science and Health. J. Nutr., 132, pp. 3772-3781. [3] Keller, N.P., Turner, G., Bennett, J.W. (2005). Fungal secondary metabolism – from Biochemistry to genomics. Nature Reviews, pp 937-948. [4] McHugh, J.D. (2003). A Guide to the seaweed industry. FAO Fisheries Technical Paper No. 441. [5] PIMCD nº 47 2011-2012. Vicerrectorado de Calidad. Complutense University of Madrid. [6] Puelles, M. (2004). Distribución Comercial. McGraw-Hill 84-481-4074-5.
Collections