Publication:
Elaboración de un sistema de evaluación continua y simultánea para todos los subgrupos prácticos de anatomía, mediante la aplicación Kahoot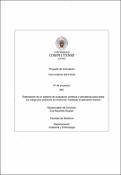 Advisors (or tutors)
Editors
Abstract
Elaboramos una de serie de cuestionarios y retos sobre casos clínicos, imágenes radiológicas, técnicas de disección, relaciones anatómicas, etc. a través de la aplicación Kahoot, que nos han permitido evaluar a todos los alumnos de forma rápida, continua, simultánea y equitativa en cada una de las actividades que se desarrollan durante las prácticas de anatomía humana. A su vez, nos ha permitido controlar la asistencia, en cada una de las actividades, de forma rápida y veraz y detectar aquellos puntos de las prácticas que resultan más dificiles para nuestros alumnos.
We developed a series of questionnaires and challenges on clinical cases, radiological images, dissection techniques, anatomical relationships, etc. through the Kahoot application, which has allowed us to evaluate all students quickly, continuously, simultaneously and equitably in each of the activities that take place during the human anatomy practices. At the same time, it has allowed us to control attendance, in each of the activities, quickly and truthfully and to detect those points of the practices that are most difficult for our students.
Citation
- Rafael Herrero Abellán. MANUAL DE KAHOOT PARA DOCENTES. 2018. CEIP Vicente Medina. Orilla del Azarbe (Murcia) - Cómo crear y usar Kahoot en clase (2021) https://www.youtube.com/watch?v=kix44XJi0fw - Tutorial de Kahoot | TIC para profesores https://www.youtube.com/watch?v=kz8qc-XMM74 - Kahoot: Cómo se utiliza para profesores y alumnos https://www.youtube.com/watch?v=N6W_XfRNQxw