Publication:
El móvil como herramienta de interacción alumno-profesor, en el aula, hacia el aprendizaje profundo (deep learning).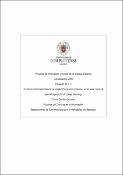 Advisors (or tutors)
Editors
Abstract
Este proyecto propone el uso de sistemas de interacción tecnológica en clase (aplicaciones con móviles, clickers, plataformas online…) incorporadas en dinámicas orientada a fomentar el aprendizaje profundo.
This project addresses the use of technological systems of classroom interaction (mobile applications, clickers, online platforms ...) aimed at fostering deep learning dynamics.
Citation
Patricio Royo, J. y Ana Isable Allueva Pinilla. "Prácticas y modelos innovadores para la mejora y calidad de la docencia" (eds. Lits) Zaragoza: Universidad de Zaragoza: Prensa Universitaria de Zaragoza, 2011. Carini, R. M., Kuh, G.D. y Klein, S. P. (2006) "Student engagement and student learning: testing the linkage" Research in Higher Education, Vol. 47, pp. 1-32. Kuh, G. D. (2003) "What we are learning about student engagement from NSSE" Change, Vol, 35, March-April, pp.24-32. Kuh, G. D. and S. Hu, (2001) "The Effects of Student-Faculty Interaction in the 1990s" The Reviwe of Highet Education, Vol, 24 pp. 309-332 Nie, Y. (2008) "Task- and self-related pathways to deep learning: The mediating role of achievement goals, classroom attentiveness, and group participation", British Journal of Educational Psychology, Vol. 78, 639–662 Shulman, L.S. (2002) "Making Differences: A Table of Learning", Change, Vol, 34, Núm. 6, pp. 36-44.