Publication:
¿Tienen las políticas de conciliación un sesgo femenino? El caso de las empresas familiarmente responsables.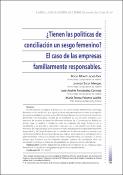 Advisors (or tutors)
Editors
Abstract
En este artículo se analizan la presencia y las consecuencias del fenómeno del sesgo femenino en la conciliación, que significa que en algunas empresas se tiene la percepción de que la necesidad de conciliar, y el conflicto trabajo-familia, son esencialmente cuestiones femeninas y no masculinas. A partir de los resultados de una encuesta realizada a 227 directivos de recursos humanos de diferentes empresas de la Comunidad de Madrid, en primer lugar, se analiza la incidencia entre las empresas del sesgo femenino en la conciliación y se procede a caracterizar a las que ven la conciliación con dicho sesgo femenino. En segundo lugar, y tras construir sendos indicadores de "empresa familiarmente responsable" y de "sesgo femenino en la conciliación", se obtiene evidencia empírica que confirma la hipótesis de que las empresas que más se preocupan de la conciliación de su plantilla tienden a ver la conciliación con menos sesgo femenino, y no al revés. De ello se deduce que favorecer que las empresas apliquen prácticas de conciliación entre sus empleados contribuye a reducir las desigualdades de género en el mercado laboral.
In this article the presence and consequences of the phenomenon of female bias in company reconciliation policies are analysed. This means that some companies have the perception that the need to reconcile and the work-family conflict are essentially feminine and not masculine issues. From a survey of 227 human resources managers from different companies of the Community of Madrid, first, the incidence of female bias in reconciliation among companies is analysed, and those that have this bias are characterized. Second, and after constructing two separate indicators of "family-friendly company" and "female bias in reconciliation", empirical evidence is obtained confirming the hypothesis that the companies most worried about reconciliation among their workforce tend to see reconciliation with less female bias, and not vice versa. From these results it follows that the encouragement to companies to use reconciliation practices among their employees contributes to reducing gender inequalities in the labor market.
Collections