Publication:
Desarrollo de plataformas electroquímicas para biosensado directo de analitos de relevancia alimentaria y clínica en muestras de elevada complejidad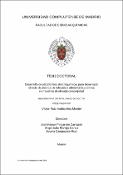 Files
Authors
Advisors (or tutors)
Editors
Publisher
Universidad Complutense de Madrid
Abstract
La evolución de la sociedad está generando nuevas inquietudes, como la garantía de la seguridad alimentaria y el acceso físico y económico a alimentos en cantidad suficiente, seguros y nutritivos. En este sentido, las enfermedades o trastornos asociados a la alimentación cobran cada día mayor importancia, como por ejemplo las alergias alimentarias, reacciones adversas a los alimentos producidas por un mecanismo inmunológico como consecuencia de la ingesta, contacto o inhalación de ciertas proteínas presentes en los alimentos, que pueden generar, incluso a niveles de traza, respuestas exacerbadas del sistema inmunológico. La alergia alimentaria afecta a alrededor del 5 % de la población adulta y al 80 % de la población infantil, presentando comúnmente sintomatologías locales (problemas digestivos, vómitos o dolor abdominal), sistemáticas (problemas cutáneos, respiratorios o cardiovasculares), e incluso severas, como el shock anafiláctico...
The evolution of society is raising new concerns, such as ensuring food security and physical and economic access to sufficient, secure and nutritional food. In this sense, illnesses or disorders associated with food are becoming increasingly important, such as food allergies, a type of adverse reaction to food produced by an immune mechanism as a consequence of the intake, contact or inhalation of certain proteins present in food, which can produce exacerbated immune system responses, even at trace levels. Food allergy affects around 5 % of the adult population and 80 % of the infant population, commonly showing local symptoms (digestive problems, vomiting or abdominal pain), systematic symptoms (skin, respiratory or cardiovascular problems), and severe symptoms such as anaphylactic shock...
Description
Tesis inédita de la Universidad Complutense de Madrid, Facultad de Ciencias Químicas, Departamento de Química Analítica, leída el 19/11/2019
Collections