Publication:
Influence of The Beatles' musical rhetoric in jingles and advertising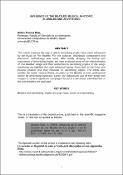 Authors
Advisors (or tutors)
Editors
Publisher
Francisco García y Manuel Gertrudix / Asociación científica ICONO14
Abstract
This article explores the way in which advertising jingles have been influenced by the music of The Beatles. For this purpose, descriptive, comparative and diachronic methodology was used. After briefly studying the history and importance of advertising jingles, we have analyzed some of the characteristics of The Beatles' songs and their similarities to advertising jingles. The article also studies the solely musical theme recorded by the Beatles in their professional career for advertising purposes.
Citation
Álvarez, A. (2003). La función social de la publicidad de la Once. Madrid, Spain: Escuela Libre Editorial-Fundación ONCE. Aizcorbe, X. (2011). Otros imaginarios, otras músicas. La música en la publicidad: un arma para llegar al alma. Barcelona, Spain: Universitat Abat Oliba-CEU. Retrieved 31/January/2013, 17:30 h. from: http://www.recercat.cat// handle/2072/178859 Apple (1997). Campaign "Think Different". Retrieved 31/January/2013, 17:30 h. from: http://www.youtube.com/watch?v=4oAB83Z1ydE Berlinger, J. (Director) (2012). Under African Skies. Paul Simon's Graceland Journey. New York, USA: A&E Indie Films. Crawford, K. (2005). Michael Jackson to lose Beatles catalog? in CNN Money.com, 8/June. Retrieved 31/January/2013, 17:35 h. from: http://goo.gl/bUiam Cola-Cao (1956). TV campaign that uses a version of the famous jingle. Retrieved the 17/January/2013, 07:35 h. from: http://goo.gl/2RQIv Dister, A. (1983). Los Beatles. Madrid, Spain: Ediciones Júcar. Dylan, Bob (2007). Advertising campaign for Cadillac Escalade. Retrieved 31/January/2013, 17:30 h. from: http://www.youtube.com/watch?v=9X3Bcmf3ckQ Dylan, Bob (2008). TV campaign to promote the Zaragoza World Expo. Retrieved 31/January/2013, 17:35 h. from: http://goo.gl/FGXrw Espadalé, B. (2000). El sonido de la publicidad, at Moliné, Marçal (editor), La fuerza de la publicidad. Madrid, Spain: McGraw Hill. Fernández Gómez, J. D. (2002). Hacia una funcionalidad de la música en el spot publicitario. Revista Internacional de Comunicación Audiovisual, Publicidad y Estudios Culturales, nº 1. Sevilla, Spain: Universidad de Sevilla, pp. 161-178 Fernández Gómez, J. D. (2008). Música, publicidad y juventud: Sonic Youth, in Etayo, C. and others (editors), Los jóvenes y el nuevo escenario de la comunicación: actas del XXI Congreso Internacional de Comunicación. Pamplona, Spain: Ediciones Universitarias de Navarra-EUNSA , pp. 1-10. Ferrer, E. (1994). El lenguaje de la publicidad. México: Fondo de Cultura Económica. Freeman, R. (1990). The Beatles, a private view. New York, USA: Mallard ress- BDD Promotional Book Company. Fontenot, R. (2011). The Beatles Songs: Girl. The history of the classic Beatles song. About.com Oldies Music. Retrieved 31/January/2013, 17:30 h. from: http://goo.gl/sS74S Golf (1998). TV campaign "God" with the music of the song of John Lennon with the same title. Retrieved 31/January/2013, 17:30 h. from: http://goo.gl/L7v6u Hoyuela, P. y Lázaro, Y. (2003). Diccionario J, Walter Thompson. Comunicación, Marketing y Nuevas Tecnologías. Madrid, Spain: Ediciones de las Ciencias Sociales, S.A. Lorente, J. (1995). Casi todo lo que sé de publicidad. Barcelona: Editorial Folio. Marlboro (1963). Campaign with the song of "The Magnificent Seven". Retrieved 16/June/2011, 16:00 h. from: http://www.youtube.com/ watch? v=1UQY7srgec8 Marlboro (1967). Campaign promoting a CD with the music of their campaigns. Retrieved 31/January/2013, 17:40 h. from: http://goo.gl/ zP8sf McCartney, Paul (2003). Live interpretation of the song "She's leaving home" the 24 May 2003 on the Red Square of Moscow. Retrieved 31/January/2013, 17:40 h. from: http://goo.gl/fUkEW Miles, B. (compilator). (1978): Los Beatles vistos por sí mismos. Madrid, Spain: Editions Júcar. Movistar (2012). Campaign "Movistar Fusión". Retrieved 31/January/2013, 17:30 h. from: http://www.youtube.com/watch?v=VDVC-o4R9NI Muela, C. (2007). La estrategia creativa en la cuña radiofónica con fines sociales. Análisis del mensaje en el medio radio: el contenido y la forma. Revista Creatividad y Sociedad, nº 11, October. Madrid, Spain: ASOCREA. Retrieved 31/January/2013, 17:40 h. from: http://goo.gl/LnPi7 Nike (1987). Advertising campaign with the song "Revolution". Retrieved 16/June/2011, 14:45 h. from: http://www.youtube.com/watch?v=iMXhtFik-vI Nike (1993): campaign with the song "Instant Karma". Retrieved 31/January/2013, 17:45 h. from: http://goo.gl/ny0sF ONCE-Organización Nacional de Ciegos (1983). First version of the ONCE jingle. Retrieved 31/January/2013, 17:45 h. from: http://goo.gl/FEHU6 Palencia-Lefler, M. (2009). La música en la comunicación publicitaria. Revista Comunicación y Sociedad, volume XXII, nº 2, pp. 89-108. Retrieved 31/January/2013, 17:45 h. from: http://goo.gl/1yL5a Sala, J. (2009). Del jingle a las canciones pop: una aproximación al uso de la música en la publicidad. Barcelona, Spain: Universitat Abat Oliba-CEU. Retrieved 13/January/2013, 16:50 h. from: http://www.recercat.net/handle/2072/39533 Sánchez Guzmán, J. R. (1993). Teoría de la Publicidad. Madrid, Spain: Editorial Tecnos. Saborit, J. (2012). La imagen publicitaria en televisión. Madrid, Spain: Ediciones Cátedra. Simon, P. (1966). "The Big Bright Green Pleasure Machine", song from the LP Parsley, Sage, Rosemary and Thyme. USA: Columbia Records-CBS. Souter, N. y Newman, S. (1988). Creative Director's Sourcebook. London, UK: MacDonald & Co. Sturges, J. (1960). The Magnificent Seven. USA: United Artists. Summers, G. (2000). Yo soy aquel negrito. Los anuncios que marcaron nuestra vida. Barcelona, Spain: Ediciones Martínez Roca. The Beatles (1965) Live show playing the song "Help!" Retrieved 31/January/2013, 18:30h. from: http://goo.gl/KHRXB The Beatles (1994). Song "From us to you" from the CD Live at the BBC. USA: Capitol. The Beatles (2000). The Beatles Antología. Barcelona, Spain: Ediciones B. The Beatles Bible (2011). Retrieved 31 January 2013, 17:45 h. from: http://goo.gl/sAaOI U2 (1993). "Zooropa", song from the CD with the same name. UK: Island Records. Wheaton, K. (2007). "Bob Dylan Shills for Cadillac". Advertising Age, 22 of October. Retrieved 31/January/2013, 17:50 h. from: http://goo.gl/7oOOC Wikipedia (2010). Retrieved 31/January/2013, 17:50 h. from: http:// en.wikipedia.org/wiki/Jingle Wikipedia (2011). Retrieved 31/January/2013, 17:50 h. from: http://goo.gl/lLIy9
Collections