Publication:
ApS Voluntariado Social Sostenible inclusivo: aprender haciendo un servcicio a la Comunidad (II)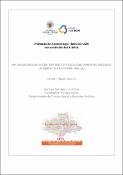 Authors
Jimenez Rodriguez, Virginia
Medina Sánchez, M. Ángeles
Riomoros Callejo, M. Isabel
Advisors (or tutors)
Editors
Abstract
El objetivo principal es consolidar el desarrollo de competencias genéricas y específicas que capacite a los y las participantes para transmitir la importancia de la Agenda 2030 en la universidad y la comunidad, desarrollando capacidades de reafirmación social para canalizar acciones encaminadas hacia los Objetivos de Desarrollo Sostenible (ODS). A través de la metodología del Aprendizaje-Servicio se busca promover un encuentro para el trabajo conjunto, mediante la conexión entre la individualidad de las personas, el trabajo grupal y comunitario. Los fundamentos del Trabajo Social nos permitirán trabajar un enfoque de derechos, valores y compromiso. Además, se promoverá el desarrollo de habilidades para la vida desde la educación popular, la educación eco-social, el diseño universal del aprendizaje, los entornos inclusivos, la lectura fácil y los huertos eco-didácticos. En el proyecto participará un grupo de veinte voluntarios/as (estudiantes de grado y máster de la Facultad de Trabajo Social y personas externas con diversidad intelectual), puntualmente estudiantes de Bellas Artes y Estudios Estadísticos. Como Aprendizaje, las actividades formativas programadas buscan formar al voluntariado tanto en los ODS como en las capacidades comentadas anteriormente. Para su desarrollo, se contará con recursos de las entidades colaboradoras, tanto propias de la UCM como externas. Como Servicio a la Comunidad, se propondrá al voluntariado el reto de ser embajadores/as de los ODS, compartiendo su mensaje en la universidad y comunidad, desde el conocimiento científico y el reconocimiento a los demás (cultura, saberes y procesos distintos a los nuestros). La gestión operativa se realizará a tres niveles: equipo técnico, para el seguimiento y evaluación del proyecto; equipo de acompañamiento, para coordinar actividades con el voluntariado y garantizar cohesión grupal; y equipo de relaciones institucionales, para coordinar con entidades colaboradoras los espacios y agenda para las actividades con el voluntariado.
The main objective is to consolidate the development of generic and specific skills that train the participants to convey the importance of the 2030 Agenda in the university and the community, developing capacities for social reaffirmation to channel actions aimed at the Sustainable Development Goals ( ODS). Through the Service-Learning methodology, it seeks to promote a meeting for joint work, through the connection between the individuality of people, group and community work. The foundations of Social Work will allow us to work on a focus on rights, values ​​and commitment. In addition, the development of life skills will be promoted from popular education, eco-social education, universal learning design, inclusive environments, easy reading and eco-didactic gardens. A group of twenty volunteers will participate in the project (undergraduate and master's students from the Faculty of Social Work and external people with intellectual diversity), occasionally students of Fine Arts and Statistical Studies. As Learning, the programmed training activities seek to train volunteers both in the SDGs and in the capacities mentioned above. For its development, there will be resources from collaborating entities, both from the UCM and from outside. As Community Service, the challenge of being ambassadors of the SDGs will be proposed to volunteers, sharing their message in the university and community, based on scientific knowledge and recognition of others (culture, knowledge and processes different from ours). Operational management will be carried out at three levels: technical team, for the monitoring and evaluation of the project; support team, to coordinate activities with volunteers and guarantee group cohesion; and institutional relations team, to coordinate with collaborating entities the spaces and agenda for volunteer activities.
Citation
Rescia Perazzo,Alejandro;Lucas Olegario,Macarena; Gutiérrez Sáenz, Mariola (2022). Trabajos en sostenibilidad y resiliencia socio-ecológica en la Universidad Complutense de Madrid. Editorial Complutense.