Publication:
El intraemprendimiento para la mejora de las competencias y la empleabildad en los estudiantes de ciencias de la salud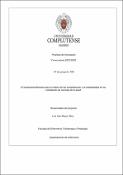 Advisors (or tutors)
Editors
Abstract
A pesar de que en los últimos meses el salto digital ha sido exponencial, en los programas de la formación de los futuros profesionales sanitarios todavía falta incorporar más intensamente el desarrollo de competencias digitales, no solo para desenvolverse en un futuro entorno personal y profesional, como es el caso de la telemedicina, sino para que el alumno pueda tener un papel más activo en la sociedad contribuyendo a dar información de calidad a su entorno próximo y utilizando los medios que la tecnología aporta para conseguir transformarse en referentes de salud Por este motivo, el presente trabajo adapta los talleres de formación en competencias digitales y de acceso a la información impartidos en la biblioteca para los alumnos del TFG a los alumnos de primero de enfermería. Además, enseña la forma de transmitir esa información relevante en unos términos que la población general pueda entenderla a través de medios digitales y por último se les dará un taller de emprendimiento e intraemprendimiento dirigido por la empresa SALUS PLAY. Al finalizar estos talleres, el alumno creará un contenido destinado a informar a la población aquellas temáticas que hayan sido de su interés. Esta información se depositará en en el CV para evaluar el impacto conseguido con esta información entre los alumnos (ANEXO I). Después de realizar la experiencia, se analizara si este proceso de trasmitir los conocimientos que ellos han preparado y que tenga repercusión mediática puedan motivarles a continuar con la experiencia a través de un camino de emprendimiento en las redes sociales desde la experturia temática. El impacto de la experiencia será evaluado tanto con las métricas de las redes sociales como con instrumentos validados sobre motivación, autoeficacia y satisfacción académica. Los conocimientos por los profesores del proyecto y por técnicos de la empresa SALUS PLAY.
Despite the fact that in recent months the digital leap has been exponential, the training programs for future health professionals still need to incorporate more intensively the development of digital skills, not only to function in a future personal and professional environment, such as This is the case of telemedicine, but so that the student can have a more active role in society by contributing to providing quality information to their immediate environment and using the means that technology provides to become health references For this reason, the present work adapts the training workshops on digital skills and access to information taught in the library for TFG students to first-year nursing students. In addition, it teaches how to transmit this relevant information in terms that the general population can understand through digital means and finally, they will be given an entrepreneurship and intrapreneurship workshop led by the company SALUS PLAY. At the end of these workshops, the student will create content aimed at informing the population of those topics that have been of interest to them. This information will be deposited in the CV to evaluate the impact achieved with this information among the students (ANNEX I). After carrying out the experience, it will be analyzed if this process of transmitting the knowledge that they have prepared and that has media impact can motivate them to continue with the experience through a path of entrepreneurship in social networks from the thematic expertise. The impact of the experience will be evaluated both with the metrics of social networks and with validated instruments on motivation, self-efficacy and academic satisfaction. The knowledge by the teachers of the project and by technicians of the company SALUS PLAY.
Citation
Baessler, J., & Schwarzer, R. (1996). Evaluación de la autoeficacia: Adaptación española de la escala de autoeficacia general. Ansiedad y Estrés, 2, 1-8. Hayamizu, T. & Weiner, B. (1991). A test Dweck´s model of achievement goals as related to perceptions of ability. Journal of Experimental Education, 59, 226-234. Navas, L. (2007 ) Academic goals of secondary education students in the musical class. Revista de Psicodidáctica. Volumen 12. Nº 1. Págs. 131-142 Rosário, P., Mourão, R., Núñez, J.C., González-Pienda, J.A., Solano, P., & Valle, A. (2007). Evaluating the efficacy of a program to enhance college students' SRL processes and learning strategies. Psicothema, 19(3), 423-427.