Publication:
Formación de futuros maestros de educación primaria en AICLE: un enfoque interdisciplinar sobre género y educación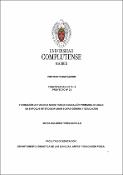 Advisors (or tutors)
Editors
Abstract
El proyecto describe como los estudiantes del Grado de Maestro en Educación Primaria realizaran actividades interdisciplinares en asignaturas impartidas en inglés, para reflexionar sobre la igualdad entre los géneros en el contexto escolar.
The project describes how prospective teachers enrolled in the Primary Education Degree at UCM and the "English Language Teaching" module, at Yokohama City University, (Japan) carry out interdisciplinary activities in subjects taught in English, to reflect on gender equality at school.
Description
Continuación de los proyectos interdisciplinares iniciados en el año académico 2014-15.
Citation
Altava, V., Pérez, I.C, Ríos, I.M. (1999). La interdisciplinariedad como instrumento de formación del profesorado. Revista electrónica interuniversitaria de formación del profesorado, 2 (1), 241-250. Barnes, J. (2018). Applying Cross-Curricular Approaches Creatively (Learning to Teach in the Primary School Series). London: Routledge. Dobson, A., Johnstone, R., & Pérez Murillo, M. D. (2010). Evaluation report of the bilingual education project. Madrid: Spanish Ministry of Education, Culture and Sport & British Council, Spain. Cone, T. P., Werner, P. & Cone, S. (2009). Interdisciplinary Elementary Physical Education. Champaing, IL: Human Kinetics. Dever, M. T., Sorenson, B., & Brodrick, J. (2005). Using picture books as a vehicle to teach young children about social justice. Social Studies and the Young Learner 18 (1), 18-21). Escobar Urmeneta, C. (2011). Colaboración interdisciplinar, partenariado y centros de formación docente: tres ejes para sustentar la colaboración del profesorado AICLE. In C. Escobar Urmeneta & L. Nussbaum (Eds.). Learning through another language (pp. 203-230). Bellaterra: Servei de Publicacions de la Universitat Autònoma de Barcelona. Feixas, M., Codó, E. & Espinet, M. (2009). Enseñar en inglés en la universidad: Reflexiones del alumnado y el profesorado entorno a las experiencias AICLE. In R. Roig (Ed.). Investigar desde un contexto educativo innovador, pp.137-154. Alcoy, Alicante: Marfil. Genesse, F. & Hamayan, E. (2016). CLIL in Context: Practical Guidance for Educators. Cambridge: Cambridge University Press. Harmer, J. (2012). Essential teacher knowledge. London: Pearson Longman. Jacobs, H.H. (1989). Interdisciplinary Curriculum: Design and Implementation. ASCD, Alexandria, Va. Llinares & Dafouz (2010). Content and Language Integrated Programmes in the Madrid Region: Overview of Research Findings. In D. Lagasabaster & Y. Ruiz de Zarobe, (Eds.), CLIL in Spain: Implementation, Results and Teacher Training (pp. 95-114). Newcastle Upon Tyne: Cambridge Scholars Publishers. Marsh, D., Pavón, V., & Frigols, M. J. (2013). The Higher Education Languages Landscape: Ensuring Quality in English Language Degree Programmes. Valencia: Valencian International University. MEXT. (2017b). The Course of Study for Primary Schools (in Japanese, 小学校学習指導要領). Tokyo: MEXT (Ministry of Education, Culture, Sports, Science & Technology) Retrieved from http://www.mext.go.jp/component/a_menu/education/micro_detail/__icsFiles/afieldfile/2018/05/07/1384661_4_3_2.pdf Pozuelos, F. J., Rodríguez, F. & Travé, G. (2012). El enfoque interdisciplinar en la Enseñanza universitaria y aprendizaje basado en la investigación. Un estudio de caso en el marco de la formación. Revista de Educación, 357, 561-585. Tsuchiya, K., & Pérez-Murillo, M. D. (2015). Comparing the language policies and the students' perceptions of CLIL in tertiary education in Spain and Japan. LACLIL, 8 (1), 25-35.