Publication:
Aprendizaje autorregulado en la formación musical del profesorado en contextos online e híbridos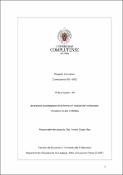 Authors
Recio Cabello, María Pilar
Advisors (or tutors)
Editors
Abstract
El fin del presente proyecto es inducir el autoaprendizaje en el alumnado por medio de tecnología y colaboración entre pares online. Pretende sistematizar el trabajo del grupo de docentes en torno a la enseñanza y aprendizaje de la música potenciando el campus y la plataforma TEAMS para cumplir el objetivo: la autorregulación en el aprendizaje del alumnado.
This project aims to induce self-learning in students through technology and online peer collaboration. It intends to systematize the work of the group of teachers around the teaching and learning of music, promoting the campus and the TEAMS platform to meet the objective of self-regulation in student learning.
Citation
Claxton, G. (2013). Implicit theories of learning. In Liberating the learner (pp. 61-72). Routledge. OECD (2016). «PISA 2015 Resultados Clave». Pozo, J. I. (2020). La educación está desnuda. Madrid: Ediciones SM.